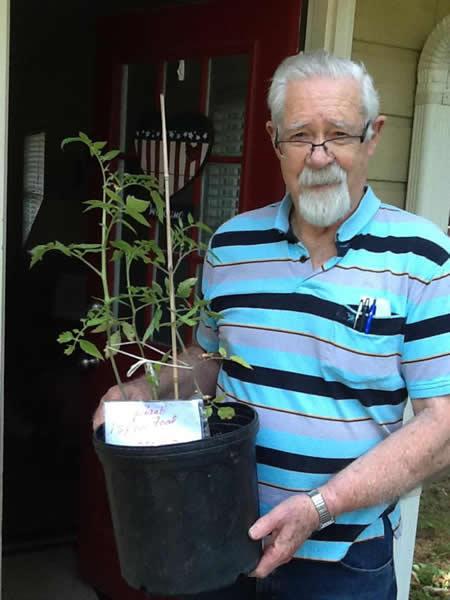 Local Outreach-- We have always taken a interest in the community issue of helping to feed
the elderly, shut-ins, poor, children and several food banks. Many tomato plants
were donated to us. We planted them,added stakes and added small fencing for
them to grow themselves. Several of the grocery stores allow us to pick
us a cross section of food that we help distribute to the families.
We also help to gather clothing that is suitable for men and women
that need good clothes for job interviews.

Educational Programs
Partnered with Gwinnett Library System
Provided community with Indian Heritage Day
Hosted two book lectures with Gwinnett Public Library and Gwinnett Reads Program
Conducted an American Girl Tea Party with Gwinnett Public Library
Joined w/Children's Reading Pgm & Tail Wagging Tutors where children read to therapy dogs
Annual Educational Program for Spring Gardening and Plant Sale
Storytelling, by actors in period costume, of historical characters i.e. Ben Franklin, Mary Gay, Mrs. Ben Franklin, Alice Strickland
Venue for Community Events
Hosted four weddings in the last 5 years, one for the Great, Great Grandson of Mrs. Alice Strickland, homeowner of the Strickland Estate in the 1920s. For further reading about this amazing woman.
Facility has been used as the backdrop for three film companies for shoots
Home of girl scout and boy scout troops
Conducted senior citizen private tours
Sponsored an Old Timer's Luncheon
Venue for Duluth History and Historical Society
Sponsored Historic Photo Contest, city-wide
Hosted author, Elliot Brack
Annual holiday events for families
Christmas Extravaganza Open House
The Society provides several rotating exhibits annually
Veterans exhibit from theWarvil war, WWI, WWII, Korean Conflict, Viet Nam, Desert Storm, and through to today.
Additional Historical Society Activities
Monthly meetings with Fireside Chats for visitors and members to learn more about the history of Duluth are held at the Historical Duluth Train Depot.
Annual Chattahoochee Dog Fest, honoring Mrs. Zigler, granddaughter of Alice Strickland, who creator of the first Gwinnett County Humane Society in 1950.
Annual partner with the Duluth Dog Mayor program.
Annually during city fall festival, provides tours of the 'callaboose', first jail in Duluth in 1829.
Sponsored a Secret Garden Tour of neighboring homes.
Prepares for Duluth City Hall, a showcase of Duluth's history in a rotating exhibit.
Alice Strickland House Property (green space):

Provides a small nature preserve with walking trails, native plants, courtesy of two Eagle Scouts
Property is a dedicated National Wildlife Habitat, courtesy of Jr. Girl Scout Troop #1945