The Duluth Historical Society promotes awareness and preservation of information and resources concerning the history of Duluth and cooperates with other cultural and educational institutions in encouraging historic appreciation and pride in Duluth's history, culture, art, and traditions.
Present Activities Include:
Historical Preservation on the Local, Regional & National Level
Building strong relationships within our Community
Preserving and Promoting our Heritage, Customs and Traditions
Compiling lost History and Artifacts
Collecting Photographs of Old Duluth, Families, and Environs
Developing Programs of Historic Interest open to the Public
State of the City Address
In keeping with our motto to "Preserving our history, Recording the present and Reaching for the future"
Duluth is 9.8 square miles in size, and is located 25 miles northeast of Atlanta. Transportation is accessible by Interstate 85, Buford Highway, Peachtree Industrial Boulevard, Georgia Highway 120 and Pleasant Hill Road.
The corporate sector of Duluth welcomes over 1600 businesses to the city, and by all indications, this number is likely to continue in growth.
Duluth is the first city in Georgia to implement multi-material curbside recycling. This program is free to all residents and was recently upgraded to include cardboard recycling and special waste, such as oil and paint.
The tourist attraction is strong in Duluth. The Duluth Historical Society preserves the history of Duluth and maintains the Duluth History. The Southeastern Railway Museum preserves, restores and operates historical railway equipment. The Duluth Fall Festival, held the last weekend in September, offers more than 250 arts and crafts and food booths, and draws crowds greater than 30,000.
Duluth elected the first woman mayor in Georgia, Alice H. Strickland. She lived 1861-1947. She promised to "Clean up Duluth and rid it of demon rum." Her contributions to the community included opening up her home for kids to have their tonsils removed (there were no hospitals at this time). She also lead the movement to protect forest lands and donated an acre for a community forest. The first in the area. Her home has been designated as a historic location by the Georgia Historical Society.
The Methodist church was the first church to form in Duluth in 1871. The church was formed when a small group of citizens began meeting at the home of Mr. and Mrs. Singleton S. Howell. The first building was constructed in 1873.
The Baptist church was organized in February 1886 and the first building built the same year. In 1907, a second building was built and was destroyed by fire in July 1947. The building was rebuilt in 1948 of brick, rock and Stone Mountain granite. This building was the home of City Hall and the Duluth Police Department. (excerpt from May 26, 1976 newspaper)
Duluth is the fourth oldest chartered City in Gwinnett County. Lawrenceville being the oldest following by Norcross and Buford.
The first school was built in 1870's where the current Duluth Middle School stands. It was a two-room building that was destroyed by fire in 1925. A new building was completed the following year and was later replaced with the current middle school building. Duluth High School was built in 1958, B.B. Harris Elementary in 1966, and more came later.
The Bank of Duluth was the first bank to organize and open in 1904. It was located in the building currently occupied by Economy Pharmacy in Downtown Duluth. The Farmers and Merchants Bank opened in 1911. Both closed during the Depression. The Bank of Duluth was re-organized in 1945 in the original building.
Gwinnett's first hospital was built in 1943 in Duluth – Joan Glancy Hospital. Glancy Jones Dunn was the first baby born at Joan Glancy Hospital. The hospital was funded by General A.R. Glancy after the death of Olin Burnett, 6, in 1941. his daughter, a Duluth cow farmer, and employer of the boy's father, wrote to him about a small clinic to serve the people of Duluth's medical needs. He sent $500 to get things started and sent $250 every year after. The hospital was named after the General's daughter, Joan, who died of pneumonia. A video of this history is available at the Duluth Historical Society.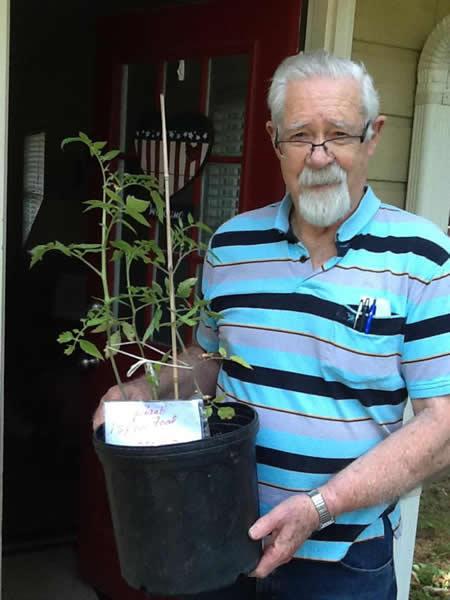 Local Outreach-- We have always taken a interest in the community issue of helping to feed
the elderly, shut-ins, poor, children and several food banks. Many tomato plants
were donated to us. We planted them,added stakes and added small fencing for
them to grow themselves. Several of the grocery stores allow us to pick
us a cross section of food that we help distribute to the families.
We also help to gather clothing that is suitable for men and women
that need good clothes for job interviews.

Educational Programs
Partnered with Gwinnett Library System
Provided community with Indian Heritage Day
Hosted two book lectures with Gwinnett Public Library and Gwinnett Reads Program
Conducted an American Girl Tea Party with Gwinnett Public Library
Joined w/Children's Reading Pgm & Tail Wagging Tutors where children read to therapy dogs
Annual Educational Program for Spring Gardening and Plant Sale
Storytelling, by actors in period costume, of historical characters i.e. Ben Franklin, Mary Gay, Mrs. Ben Franklin, Alice Strickland
Venue for Community Events
Hosted four weddings in the last 5 years, one for the Great, Great Grandson of Mrs. Alice Strickland, homeowner of the Strickland Estate in the 1920s. For further reading about this amazing woman.
Facility has been used as the backdrop for three film companies for shoots
Home of girl scout and boy scout troops
Conducted senior citizen private tours
Sponsored an Old Timer's Luncheon
Venue for Duluth History and Historical Society
Sponsored Historic Photo Contest, city-wide
Hosted author, Elliot Brack
Annual holiday events for families
Christmas Extravaganza Open House
The Society provides several rotating exhibits annually
Veterans exhibit from theWarvil war, WWI, WWII, Korean Conflict, Viet Nam, Desert Storm, and through to today.
Additional Historical Society Activities
Monthly meetings with Fireside Chats for visitors and members to learn more about the history of Duluth are held at the Historical Duluth Train Depot.
Annual Chattahoochee Dog Fest, honoring Mrs. Zigler, granddaughter of Alice Strickland, who creator of the first Gwinnett County Humane Society in 1950.
Annual partner with the Duluth Dog Mayor program.
Annually during city fall festival, provides tours of the 'callaboose', first jail in Duluth in 1829.
Sponsored a Secret Garden Tour of neighboring homes.
Prepares for Duluth City Hall, a showcase of Duluth's history in a rotating exhibit.
Alice Strickland House Property (green space):

Provides a small nature preserve with walking trails, native plants, courtesy of two Eagle Scouts
Property is a dedicated National Wildlife Habitat, courtesy of Jr. Girl Scout Troop #1945